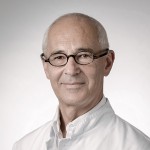 Doctor Dominique Rheims is a specialist in plastic, reconstructive and aesthetic surgery. After graduating from the medical faculty of the University of Paris VII, he discovered plastic surgery during a volunteer internship in Lausanne in 1981. The following year he returned to train as a plastic surgeon resident at the Vaud University Hospital (CHUV) and at the Lausanne Plastic Surgery Centre.
Having completed his studies, in 1987 he established his practice in Paris, dividing his professional activities between his private office, the Robert-Debré University Hospital for Children and the American Hospital of Paris. He also found time to participate regularly in teaching assignments in Spain (Barcelona), Portugal (Coimbra) and China (Shanghai, Guangzhou, Wuhan) as well as in humanitarian missions in Africa (Chad and Ethiopia). In 2013, following a meeting with the Hirslanden hospital group he decided to return to Lausanne.
Convinced that Mimosa Tenuiflora had a beneficial effect on the scarring process, as long ago as the 1990s Dr Rheims began systematically prescribing it in the form of an ointment to be used in all post-operative care. In the course of time he noticed that this Mimosa Tenuiflora ointment enhanced the facial skin of those patients who used it more extensively. This surprising result prompted him to research the ideal formula which would make it even more effective, by using concentrated plant extracts selected for their synergy. These long years of research came to fruition in 2015, with the creation of ECLIPSAGE.
"Very nice texture; I like the fact that there is virtually no smell; I also like the colour… Eclipsage has the kind of rich texture (normally) associated with a night cream. However, using the right amount (not too much) during the day helps the skin to maintain a well-moisturised and agreeable appearance and feeling. The cream really does smooth the skin. Make-up does not run."

"Elegant, classy flacon, pretty, subtle combination of colours/makes you want to discover what is inside. Contents: fluid cream with a very pleasant texture; soft; penetrates easily. I followed the instructions: massage into the face/lovely feeling on the skin. Easily absorbed, feeling of softness and smoothness. Not oily, leaves no traces; skin feels relaxed, nice to touch, very effective = I'm hooked!"

"Very soft cream, really nice to use. You can use it as both a day and a night cream. Works well under make-up because it is neither too liquid nor too oily, penetrates perfectly so provides a good base for make-up, powder, foundation… Leaves the skin feeling soft and moisturised. Pleasant, very soft, rich, non-oily texture. I have a combination skin and cannot find a suitable cream – either they feel too tight or else they are shiny and oily. This one is perfect, ideal; ideal texture, the effects rapidly noticeable… You feel that the cream penetrates well into the skin. I have nothing but good to say about it!"

"My skin absorbs the cream well; my skin is soft and from the very beginning I had a feeling of freshness; my skin is well moisturised. The airless bottle is practical and the cream is both pleasant to use and effective."

"A cream which creates a sensation of comfort and real well-being and a smoother skin; my complexion appears more luminous and even, my skin is softer, more supple and properly moisturised."

"I have been using Eclipsage now for two and a half weeks. I find it excellent ! My pores look finer, my skin never shines – a problem which I have had with many other creams – and I find that it makes my skin look lightly powdered. The smell is neutral, even slightly medicinal, which doesn't bother me at all. I have rarely seen any change in my skin after such a short time."

"I have been using Eclipsage every day for several weeks: the quality of my skin has improved and signs of ageing have diminished. It matifies and nourishes at the same time, a real miracle ! My make-up stays put all day without running or shining. Using a single product for both day and night simplifies my life. I really like the pretty airless flacon, which is easy to slip into a travel bag or handbag. With its pleasant, silky texture, using Eclipsage has become my little ritual : pleasure and relaxation"